Workers hundreds of dollars a week out of pocket during lockdown
State lockdowns to stop the spread of coronavirus will leave workers hundreds of dollars out of pocket even after government payments, with those in Sydney's south-west and retail staff across Melbourne among the worst affected.
Analysis of Australian Bureau of Statistics labour force data by The Sydney Morning Herald/The Age shows some of the most locked-down areas in Sydney are home to a high concentration of workers in the retail and construction sectors, both of which are financially exposed to new restrictions aimed at stopping the spread of coronavirus.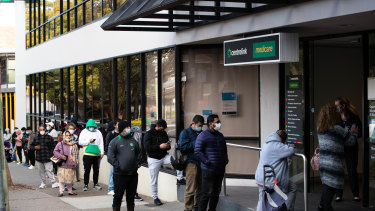 At the same time, modelling undertaken by the Parliamentary Library for the Greens shows part-time casual staff in Sydney and Melbourne working in retail, hospitality and beauty will be materially worse off when replacing their usual pay with state and federal government support.
The closure of construction sites and retail outlets will hit one in four workers in south-west Sydney, where more than 47,000 people work in these two industries, the ABS data shows. Another 10,000 work in accommodation and food services. One in 10 employees in this area, or about 20,400, works in the critical health care and social assistance sector.
The second area with the most exposure by proportion of the local workforce is the Central Coast, where 23 per cent of jobs are in construction and retail. This is followed by Parramatta and the outer south-west, where more than 20 per cent of workers have jobs in these two sectors.
CreditorWatch chief executive Patrick Coghlan said any extension of the existing lockdowns in Sydney would have a "huge detrimental effect on the industry". Construction is high on his list of sectors most at risk of insolvencies due to restrictions.
"There's total uncertainty right now," Mr Coghlan said, adding the industry was booming ahead of the restrictions.
"The construction industry is notorious for paying slow or late, so for all [those] already owed money, it's a double whammy."
NSW Premier Gladys Berejiklian has promised construction activity will start back up in some form on July 31, though the future of the broader lockdown remains unclear with case numbers still relatively high.
In Victoria, the construction industry is able to operate with COVID-Safe practices in place. But a major downturn in spending is expected to hurt businesses across Melbourne. More than one in 10 workers in every region, except for the inner and western suburbs, is in the retail sector.
The federal government is providing weekly payments of $375 for those who have lost fewer than 20 hours of work a week and $600 for those who have lost more. This only recently kicked in, with less generous support earlier in the current lockdown.
Under the scheme, part-time casual workers in retail, hospitality and health and beauty are expected to receive up to hundreds of dollars a week less than they would normally earn, according to the modelling for the Greens.
An adult retail worker at the bottom of the award pay scale who had previously worked 19 hours a week, including weekend shifts, and lost all hours during the closures in Sydney would have been out of pocket $538 in the first week, $213 in the second and third weeks and $163 in every subsequent week. The same worker in Melbourne would be out of pocket $163 in the first and second weeks.
Greens leader Adam Bandt said those on government support such as youth allowance who lost hours during the lockdown were facing an even bigger cut to their income. "No-one should be forced to live through the pandemic in poverty," Mr Bandt said, adding the federal government should reinstate the full rate of JobKeeper, worth $1500-a-fortnight at the height of the pandemic last year, and provide more assistance to those already on government payments.
The federal government has described its current supports as more appropriate and quicker to get to staff compared to its JobKeeper wage subsidy, which took six weeks to implement.
The Morning Edition newsletter is our guide to the day's most important and interesting stories, analysis and insights. Sign up here.
Jennifer Duke is an economics correspondent for The Sydney Morning Herald and The Age, based at Parliament House in Canberra.