Tokyo Olympics as it happened: Stage set for Ledecky and Titmus; Olyroos lose to Spain; France upset Team USA
Pinned post from
yesterday
The best Australian action to keep an eye on today
Latest posts
Thanks for following along today, we'll be back tomorrow
A pleasure to have you all along for the ride today, the day where Australia won its first gold of the Tokyo games via the women's 4x100m freestyle relay team.
There's a bit on tomorrow too. Some highlights:
SWIMMING finals (11.30am - 1.40pm AEST):
Women's 100m Butterfly Final - Emma McKeon
Women's 400m Freestyle Final - Ariane Titmus (v Katie Ledecky)
Men's 4 x 100m Freestyle Relay Final - Australia
TRIATHLON (men)
Aaron Royle, Jacob Birtwhistle and Matthew Hauser
RUGBY
Men's Pool Round Pool A - Australia v Argentina (11.30am AEST), Australia v South Korea (7.00pm AEST)
TENNIS
Women's doubles, second round - Ash Barty and Storm Sanders v Xu Yifan and Yang Zhaoxuan
Never miss a medal or great sporting moment with our Olympic update emailed daily. Sign up for our Sport newsletter here.
US men's team suffers first Olympic loss since 2004
By

Roy Ward
France has ended Team USA's 25-game, 17-year winning streak in Olympic men's basketball with an 83-76 win.
The US faced question marks coming in and had Devin Booker and Jrue Holiday join the team in recent days after playing in the NBA finals but France turned those questions into a hot-button crisis with smart defensive adjustments and some brace shooting from NBA guard Evan Fournier who had 16 of his 28 points in the second half. It was USA's first loss since 2004.
Gregg Popovich's side looked strong at times, especially when Damian Lillard was hitting his outside shots but they didn't have the height or strength to battle with the French under the basket and it hurt them dearly. But what will sting more was a string of missed shots in the final minute that could have given the Americans a chance to cut the lead and possibly force overtime.
France were always going to be contenders given they finished third at the 2019 FIBA World Cup but this US team was meant to be good enough to compete.
France up on USA heading into 4th quarter
By

Roy Ward
France have sprung to life and taken charge of their clash with Team USA, holding a 62-56 lead going into the final term.
The US had NBA superstar Kevin Durant sent to the bench with four fouls early the quarter; a player fouls out with five at Olympic level.
In his absence and with other US stars missing their shots, the French took the ascendancy with Evan Fournier scoring 10 points for the term and former NBA guard Nando De Colo making some big buckets in a 25-11 quarter.
Now the question is whether US can respond or face another pride-battering loss.
Aussies struggle in equestrian
Equestrian Kelly Layne did her best to remain composed on a night to forget as the three-person Australian team failed to reach the Olympic dressage grand prix finals in Tokyo.
Layne's horse Samhitas wasn't co-operating at Equestrian Park on Sunday, the rider doing her best to stay cool as she finished with a group-low 58.354 per cent.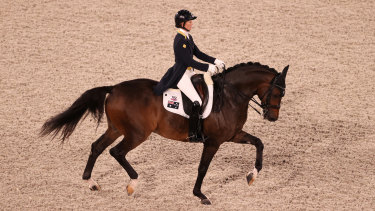 That followed Simone Pearce's 68.494 per cent effort on Destano, good enough for fifth in her 10-strong group.
On Saturday the Games' oldest competitor, 66-year-old Australian Mary Hanna (67.981) was sixth in her group.
The scores meant all three missed the individual dressage final, while their combined score also left them out of the top-eight nations to compete in the teams grand prix special.
AAP
Fox shows the best form heading into finals
By

Vince Rugari
Two-time Olympic medallist Jess Fox has qualified for the women's slalom K1 semi-finals with the fastest time, putting her firmly on track to challenge for an elusive gold medal.
Fox, the current world No.1, moved through to the next round of the event by posting a time of 98.46 seconds in a near-flawless second heat – her best time from two runs on Sunday at the Kasai Canoe Slalom Centre, and a whopping three seconds quicker than her nearest challenger, Germany's Ricarda Funk.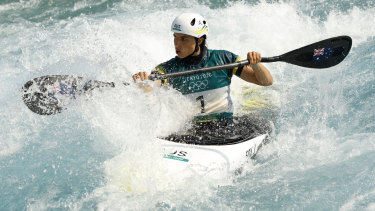 Her first time, 104.05 seconds, was only just behind Funk in the first heat.
Fox's performance comfortably ensured she would be one of the 24 competitors to have earned a spot in Tuesday's semi-finals, with the K1 medals to be decided on the same day.
Fox, 27, is widely regarded as the greatest canoe slalom paddler of all time and is a three-time K1 world champion but is yet to stand at the very top of an Olympic dais. She won silver in this event at London 2012 and bronze at Rio 2016, and is seeking to complete her set of medals in Tokyo.
On the podium: Weightlifting
Lillard, USA fire early to lead France
By

Roy Ward
Team USA has fired from the start in their Olympic opener against fellow medal-contenders France, taking a 45-37 lead into half-time.
The US arrived with some pressure on their shoulders after losses to Australia and Nigeria in their lead-up tournament but they have looked a changed side so far against a French team featuring several NBA stars including Utah Jazz defensive ace Rudy Gobert.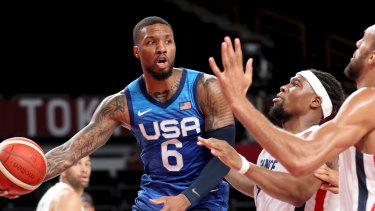 American guard Damian Lillard has nailed three threes in the first half and USA coach Gregg Popovich has made great use of athletic Miami centre Bam Adebayo who has 10 points while Kevin Durant has added seven points but battled foul trouble.
France has been disappointing defensively allowing Lillard too much room and giving up nine costly turnovers, most of which have led to dunks for the US.
NBA guard Evan Fournier has yet again stood tall for France with 12 points while Gobert has nine points and seven rebounds.
Germany's women gymnasts take a stand with outfit choice
The German women's gymnastics team wore full-body suits in qualifications at the Tokyo Olympics on Sunday, saying their fashion choice went against the sexualisation of their sport and showed that women could wear what they choose.
The team, composed of Sarah Voss, Pauline Schaefer-Betz, Elisabeth Seitz and Kim Bui, opened their Olympic performance on the asymmetric bars wearing red and white unitards, which are combined leotards and leggings extending to the ankles.
They wore similar outfits during training on Thursday and said they could chose to wear them again in competition. The Germans wore the full-body suits at the European championships in April in a move that was broadly praised by other female gymnasts.
For women, the standard competition outfit is a leotard, with long, half-length sleeved and sleeveless garments allowed. Outfits covering legs are authorised in international competitions but to date they have been worn almost exclusively for religious reasons.
Reuters