'That is really spectacular': Mother's pride at Campbell sisters' success
The mother of two of Australia's greatest sporting siblings, Jenny Campbell, is beaming with pride after her daughters steered Australia to gold in the 4x100m freestyle relay on Sunday in world record time.
Yet in the most humble and modest manner, the phrase "world record" rolls off Campbell's tongue with ease, such has been the success of the pair in recent years.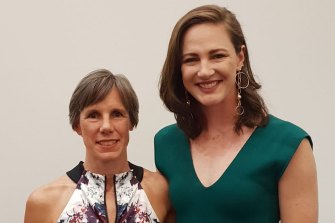 "Glasgow they broke the world record and Rio they broke the world record and Commonwealth Games they broke the world record and now again they broke the world record," Jenny Campbell told the Herald. "It's really lovely they have both been part of that world record-breaking team every time they have done that."
Campbell, like every other athlete's parents at these unprecedented Games, was unable to travel to Tokyo to watch her star daughters in action at the pool due to COVID-19.
From the comfort of her living room in Brisbane, flanked by the mother and father of the Campbell sisters' coach, Simon Cusack, Jenny Campbell cheered home Bronte, first in the pool, and Cate in the last leg on a memorable first day of finals action.
"We all know the Olympics doesn't dish up what we expect it to, so it's really lovely when it does," she said. "I don't know that you can ever be confident."
Given Bronte finished fifth at the Olympic trials in the 100m freestyle, she was an outside shot of swimming a relay final in Tokyo but a superb heat swim on Saturday evening saw her selected in the final four.
It meant a reunion with her older sister five years after their world record victory in Rio.
"We know that Bronte is swimming with injury, so it was just lovely she made it through to the final," Campbell said. "That was really special to have her swimming in the final and Rio here again.
"They won in 2012 [at the London Olympics] but Bronte wasn't part of that team.
"Bronte making it through to the final would have been a really big thing for her."
Cate Campbell became just the third Australian athlete in history on Sunday to win gold in the same event at three consecutive Olympics.
Only swimming great Dawn Fraser and eight-time equestrian Olympian Andrew Hoy have managed the feat.
Being in the same sentence as Fraser makes Campbell snr extremely proud.
"Obviously it's not an individual event but she has been the only person to swim at all three of them. That is really spectacular," she said.
"There are not many people who have managed to do that."
Although the quartet wore masks when the Australian anthem played through the Tokyo Aquatics Centre, Campbell knew her loved ones were singing with pride.
She is just happy her daughters were able to experience a normal Olympics.
"I could see they were singing," Campbell said. "I was wondering if they might take their masks off to sing. This Olympics is going to be remembered for any number of different things. The masks is just one of them.
"The records of these Olympics is going to be very weird for eternity, stored somewhere in an archive.
"I am very grateful my girls have experienced other Olympics. I do feel for kids that this is maybe the only Olympics they will ever go to. It's still an experience but they'll never experience the normal Olympics.
"It'll be nice to have them back again because it's a long time they are away."
Next up, the 100m freestyle final on Thursday: Cate Campbell vs Emma McKeon, should all things go to plan.
McKeon shaded Campbell at the Olympic trials but the four-time Olympian shouldn't be written off.
"Emma is swimming incredibly well and I think for both of them, it's probably who is going to hold their head on the day," Jenny Campbell said. "We know what Cate is capable of and we know what Emma is capable of. Who knows. You never know with the Olympics what it's going to throw up."
Never miss a medal or great sporting moment with our Olympic update emailed daily. Sign up for our Sport newsletter here.
Tom Decent is a journalist with The Sydney Morning Herald