Qld Premier begins hotel quarantine after arriving home from Tokyo
Premier Annastacia Palaszczuk is beginning a fortnight of governing from a hotel room after arriving back in Brisbane on Sunday following her successful bid to secure the 2032 Olympic Games in Tokyo.
Sunday also marked the Premier's 52nd birthday, although she was not able to celebrate in any broad fashion as she was whisked away to quarantine soon after arriving at the airport.
Ms Palaszczuk will spend the required 14 days in hotel quarantine, and has previously promised she will be working while there.
There had been suggestions she had organised to stay in an upgraded room at one of the state's quarantine hotels, however her office strongly denied those claims.
Acting Premier Steven Miles on Sunday clarified that Ms Palaszczuk would be spending her fortnight in quarantine in the same manner as every other person who goes through the system.
"She's staying in a hotel room that is just part of the hotel quarantine stock – it has been used by other returning travellers," Mr Miles said.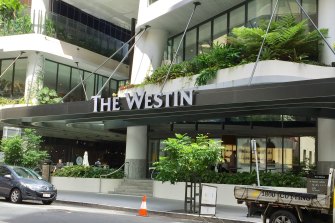 "Any Queenslander could have found themselves in this room, or a room like it."
Brisbane lord mayor Adrian Schrinner was also in Tokyo as part of the bid, arriving back with the Premier on Sunday.
He will also do 14 days in quarantine, with both he and Ms Palaszczuk staying at the Westin in Brisbane's CBD.
That hotel has a number of larger rooms and even "suites" featuring connected bedrooms and living rooms on its upper levels, with all of its rooms being used for quarantine at the moment.
Ms Palaszczuk was quizzed during an early estimates hearing before her Tokyo trip about who would pay for her quarantine, given regular travellers are billed $3220 for one adult in one room to stay 14 days.
She avoided specifying the arrangements at the time, but it would not be unusual for the government to cover her quarantine costs, given that the Premier had been travelling on official business.
Before and during the Tokyo mission, the government was keen to play down any suggestion of impropriety in the face of virus outbreaks in Australia, with strong public sentiment against the trip before the delegation left for Tokyo.
Ms Palaszczuk also had an awkward exchange with Australian Olympic Committee president John Coates, who ordered her to attend the Tokyo Opening Ceremony during a public press conference after she said she would not be attending.
Mr Coates later claimed he was aware of the scrutiny on the Premier and had publicly forced her to attend, which she did, to deflect any criticism of her doing so.
Despite the criticism and the city being granted preferred bidder status last year, the in-person pitch to the full IOC panel in Japan was said to be what got Brisbane's bid over the line.
Stuart Layt covers health, science and technology for the Brisbane Times.