Opinion
NSW begs you Scott Morrison, please use your authority to redirect Pfizer to Sydney
Many in NSW were worried earlier this year by the confusing appointments of an admiral and then a general to manage Australia's vaccine strategy. When all our expertise and success in service delivery has been by our brightest epidemiologists and doctors at state level. Why was the federal government overlaying army and navy men with zero experience of our incredibly complex health system?
On top of supply and hesitancy issues, the vaccine rollout has continued to unfold as a kind of nightmare at local level where primary health care service providers are providing some vaccination, NSW Health is operating some clinics based on limited information sharing, and a private contractor is operating an often out-of-date national online booking service.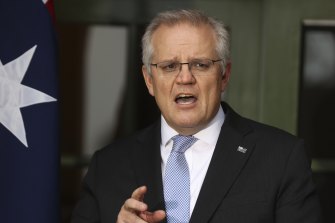 There is no consistency or co-ordination at ground zero – the generals in Canberra have no captains to direct in the field. And nobody understands this Canute-like disconnect between policy and implementation.
This growing anxiety about vaccine strategy exploded into full on alarm last Friday.
The NSW Chief Medical Officer Kerry Chant – backed by the Premier and cabinet – gave us all her best unvarnished medical advice. And it wasn't just her words. As she moved to the media microphones it was written all over her face, the Premier's face, the Health Minister's face – these people were not kidding us. It was an extraordinary moment. A crossroads for Australia's future in managing the pandemic.
Dr Chant told us in all honesty, the lockdown/containment strategies by themselves were not working. We have got to immediately adapt and incorporate vaccine strategy – it's the only solution. It means immediately dispensing all the Pfizer we can get our hands on to a very specific demographic and geographic location.
It's the medical equivalent of water-bombing a bushfire hotspot. It has to be done or we lose it all. It's quite simply that serious.
Unbelievably, the only people in Australia who failed to hear her message were those with the actual power to help.
And so the response Dr Chant pleaded for has not happened. All we got back from Canberra was a petty media leak to the effect that NSW had been offered army assistance weeks ago and Berejiklian had said no.
This response was horrifying on so many levels. It seemed a political "tit for tat" which misread the Chief Medical Officer's vaccine strategy advice as somehow a criticism, triggering some political biff back to Berejiklian. The 50,000 doses announced yesterday won't cut it.
Australia – we need our governments to get out of their political mode and back into health mode – and to follow Dr Chant's expert advice.
How does Canberra think the Australian army can disrupt COVID transmission in Sydney? I doubt the idea was to mount a military invasion of other states to seize their supplies of Pfizer. That's the only practical assistance they can offer for this very specific problem – and obviously that's crazy.
National cabinet has known for more than a year that quarantine and closed borders was just a fragile holding strategy. Anyone who believes it is viable to just hunker down until the virus goes away must not own a television or be watching the news.
The actual end game for the COVID pandemic is the vaccine.
And yet there has been zero transparency around the strategy for vaccinating the population. Sure – protect the health system by vaccinating our most vulnerable. But what about having a strategy to prevent them encountering the virus at all? In other words use the vaccine to break the chains of transmission.
To do this, the shift must be to targeting those who are spreading the virus – transport workers, food workers – overwhelmingly young people who have had no access to vaccination urgently need to get those jabs.
In a bushfire you rapidly shift resources to extinguish the hotspots. It seems so obvious – and yet, at this great moment, we are proving incapable of doing that in terms of vaccinating youth in south-western Sydney. We are allegedly on a wartime footing but the national cabinet, a committee of self-serving politicians is over-ruling expert advice and failing to put the resources we need to win this critical battle, which will almost certainly determine the outcome of the bigger war.
Only one person can prevent this policy air crash and save Australia. Prime Minister Morrison, NSW begs you –please – you have the power as the procurer and owner of the vaccines to cut through and immediately deploy the firepower we need to extinguish the virus hotspot.
The window to act is already closing. We won't have a second chance. And what we are witnessing right here, right now is the beginning of the end of our pandemic innocence. The fallout of such a massive policy failure by Liberal governments would probably destroy our party – but that political consequence is minor compared with the fallout for the citizens we are entrusted to protect.
We are speeding towards a collision with virus reality – and Prime Minister Scott Morrison – you are the only person who can stop it.
Sun Tzu wrote "do what is difficult, while it is easy". Redirecting Pfizer now to south-west Sydney is a no brainer compared with what will be needed if we delay.
The Opinion newsletter is a weekly wrap of views that will challenge, champion and inform your own. Sign up here.
Catherine Cusack is a Liberal Party member of the NSW upper house.