Morrison's political calculus: bare his throat now, go to the polls in May
Scott Morrison's standing with the Australian public has taken a major hit over the past few weeks for his government's handling of the vaccine rollout. On Wednesday, he fronted up for an interview with Melbourne's KIIS FM and was dressed down by its hosts, who demanded he say sorry.
FM radio interviews are looked down upon by some journalists, with harder-hitting interviews on the ABC or talkback stations seen as more serious and substantial. Morrison's office doesn't send out media alerts to the Canberra press gallery about FM interviews, nor transcripts.
It's a mistake. While FM encounters can sometimes be little more than froth and bubble, KIIS host Jason Hawkins showed why they should not be disregarded. FM engages parts of the population who don't necessarily watch the nightly news or pick up a newspaper. They matter, too.
As one Liberal texted after the interview: "If you're getting f---ed on FM radio, you're in trouble."
Despite repeated requests to apologise, Morrison refused, and again at a press conference later on Wednesday. By Thursday, the jig was up, and Morrison said the word sorry (though the nature of the apology didn't please everyone).
As one Liberal MP put it prior to Morrison saying sorry: "I wish he would apologise - when he refuses, we are stuck on this ground. Regret doesn't cut it."
Saying sorry and taking responsibility for the problems in the rollout is a calculated strategy from the PM. He followed up the KIIS interview with more radio interviews, press conferences and even an unlikely appearance on Triple J's Hack program to talk to younger Australians who aren't even eligible for Pfizer yet (though they can get AstraZeneca).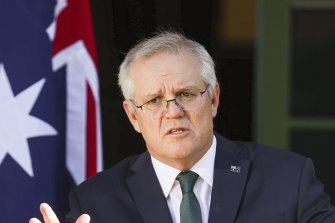 It might be called the "baring your throat" strategy. The PM is showing contrition, acknowledging community anger and taking his licks — as is borne out in the most recent Resolve Political Monitor, Newspoll and the Essential poll — with one eye on the future.
The prospect of an election in 2021, already unlikely, is almost certainly gone.
Morrison's calculation now is that while the next month or three will be painful politically as Sydney remains locked down and the vaccine rollout slowly ramps up, by May next year when the election is due, Australia will (hopefully) be much better placed, the vaccine rollout will be complete, and anger will have dissipated.
He has little choice but to take this path. And it is by no means guaranteed to work, particularly the longer Sydney's lockdown goes on and (unfortunately) businesses go under, and ordinary Aussies get sick and struggle to pay their bills.
There are further complicating factors. Victoria and South Australia, Labor and Liberal states, will likely be out of their lockdowns in the next seven to 10 days.
That will make things even worse for NSW Premier Gladys Berejiklian — who remains popular at a time when people generally back state premiers over the Prime Minister — and for Morrison.
Those who argued, correctly, that Sydney should have locked down harder and sooner will be vindicated (and won't mind saying it).
There is a broad view among federal Liberal MPs that the Morrison government is now sharing equal blame for the most recent lockdowns because of the vaccine rollout.
There is also disquiet on the backbench about the highly centralised Prime Minister's office, the absence of some senior ministers from public debate and the fact that some ministers simply refuse to talk to the ABC, the country's largest media outlet.
While Morrison, Josh Frydenberg, Greg Hunt, Simon Birmingham and Peter Dutton are regularly in the media making the case for the federal government, the absentees are also noted.
The grumbling centres on frontbenchers including Christian Porter, Alan Tudge, Linda Reynolds, Angus Taylor, Melissa Price and most of all, Marise Payne — who has a regular spot on 2GB but who is otherwise almost totally absent from public debate.
Political perceptions can be like slow-setting cement: wet on the surface, but hardening imperceptibly beneath. That's the risk for the Morrison government.
Stay across the most crucial developments related to the pandemic with the Coronavirus Update. Sign up to receive the weekly newsletter.
James Massola is political correspondent for the Sun-Herald & Sunday Age. He won the Kennedy award for Outstanding Foreign Correspondent while posted in Jakarta and wrote The Great Cave Rescue. He was previously chief political correspondent.