Glorious unpredictability tears up Olympic predictions
Even if Jack McLoughlin could see, without his glasses, across seven lanes of a swimming pool, he couldn't have known that Ahmed Hafnaoui was coming. No one knew. Not even Ahmed. Least of all Ahmed.
Ahmed Hafnaoui is 18 and from Tunisia. The only other Tunisian, man or woman, to win an Olympic gold medal in swimming is Oussama Mellouli. Hafnaoui describes his countryman as a hero and a legend. He never thought he could be like Mellouli.
Were you surprised, Hafnaoui was asked. Give it a spell, he might have replied if his English was a little better. "Of course I surprised myself, it is unbelievable," he said. "I believed it when I touched the wall and saw myself first."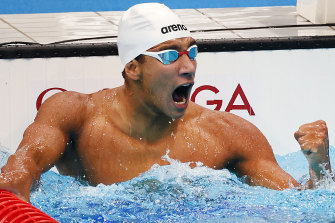 Hafnaoui won the men's 400m freestyle final from lane eight. Winning from lane eight has very special meaning in the Australian swimming vernacular. Kieren Perkins. In Atlanta. Winning from lane eight.
Was McLoughlin surprised? Yes and no. "This is the Olympics,"" he said. "Anything can happen. There are so many stories out there and now Ahmed is one of those stories."
Sara Sorribes Tormo is another story.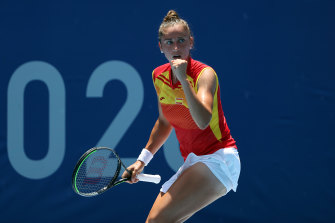 Sorribes Tormo, 24, is a tennis player from Spain. Before the Tokyo Games, she'd won only one tournament on the WTA tour. On Sunday at Tokyo's Ariake Tennis Park, she knocked over Wimbledon champion and world No.1 Ashleigh Barty.
No one imagines Sorribes Tormo will win an Olympic medal from here but then, no one imagined Barty would lose in the first round.
How did Barty get beaten? There is no easy way to put it. She desperately wanted to play well in Tokyo but instead, beneath a blazing hot sun, she laboured wretchedly for an hour in search of her usual rhythm and game. "It was a tough day, a disappointing day. I can't lie about that," she told Channel Seven. "Wasn't meant to be."
Beneath the surface of these Olympic Games, on the edges of the Australian team, a little voice is starting to chirp these same words.
At successive Olympics, Australia has not done as it was expected to. The fall-out was felt at all levels of Olympic sport and led to a national overhaul of how our sports system is administered and funded.
No one in sport wants to go through something similar after Tokyo. If we understand sport like McLoughlin understands it, there is no reason to. Certainly none yet.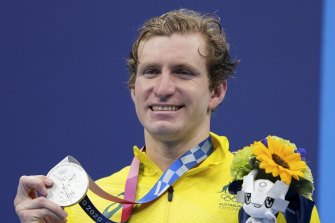 One of the big changes embraced by the Australian Olympic Committee and the Australian Institute of Sport after the Rio Olympics was to abandon official medal targets. Hafnaoui is a perfect illustration of why.
McLoughlin is rightly proud of finishing second in the 400m freestyle. He swam the race exactly how he and his coach had planned. He swam close to his fastest time and had the entire field covered -- except for a Tunisian teenager in lane eight.
Hafnaoui swam faster than he'd ever swum to make the final and faster again to out-touch McLoughlin.
McLoughlin didn't lose the race; Hafnaoui won it. Setting hard medal targets based on what Australian athletes are expected to do, while ignoring the capacity of athletes from other countries to produce something unexpected, is to ignore the unpredictability of Olympic sport.
Medal predictions of the kind produced by entertainment data and technology company Gracenote, and published last week by The Age and Sydney Morning Herald, are a well informed and useful guide to Olympic competition, but a guide only.
Australia has its first gold medal of these Games. One of the exceptions to everything you've just read is what happens when our women dive into the pool for a 4x100m freestyle relay.
It has been 13 years since we lost this race at an Olympic Games. Meg Harris, a member of the world record breaking quartet in Tokyo, was just six when that happened in Beijing.
Although all the names on the start sheet other than Cate Campbell's have changed over the years, the 4x100m freestyle relay team in winning the same event at three successive Olympics has achieved, as a collective, what only Dawn Fraser has done.
For anyone else in the Australian team, the capacity of rival competitors to astound, even those who come from the clouds, are just part of the Olympics.
As McLoughlin put it: "You see all these results of people predicting who is going to win and who is going to come second and everything; it's the Olympic Games and anything can happen.
"The best people are the ones who can come up and swim their best times at an Olympic Games. Ahmed coming out and doing huge PBs; that is just amazing and a credit to him."
Sometimes, the guy in lane eight is just too good.
Chip Le Grand is The Age's chief reporter. He writes about crime, sport and national affairs, with a particular focus on Melbourne.