Fresh faces and familiar stars ensure relay odyssey continues in Tokyo
Australia's good thing of the Games delivered more than just a gold medal. It marked the start of new Olympic journeys, the natural conclusion of others, one final moment of sporting sisterhood and potentially, the momentum to elevate those following in their record-breaking wake this week in Tokyo.
And there was the world record, another one, like the one they set in 2014 at the Commonwealth Games, then the 2016 Olympics, then the 2018 Commonwealth Games and now Tokyo in 2021.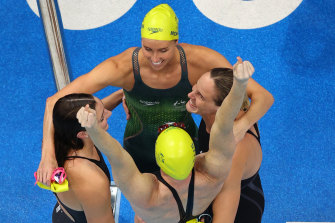 Australia's women's 4x100m freestyle squad, now the Olympic champions for a third-consecutive Games, has made a habit of delivering when it counts. This time it was Bronte Campbell, Meg Harris, Emma McKeon and Cate Campbell who tore a hole in the space-time continuum, breaking the 3:30s barrier to win in 3:29.69, some three seconds clear of silver medal winners Canada.
Everybody had predicted this result, which made the fact it was still so stunning even more impressive. It arrived at the end of a day where Australia had claimed bronze in the men's 400m IM, then silver in an achingly close men's 400m freestyle. This was over by the halfway mark.
Bronte Campbell lead off in typically speedy style, then handed over to 19-year-old Olympic rookie Harris, who gave McKeon a slender lead at the halfway point. There was nothing slender about it by the final change, with McKeon dialling in a 51.35s split that would be the fifth-fastest in history.
Having had the race blown wide open, Cate Campbell glided home with only the clock for company. She beat that, too, to win a third gold medal in the event in as many Games. It was sublime swimming from start to finish.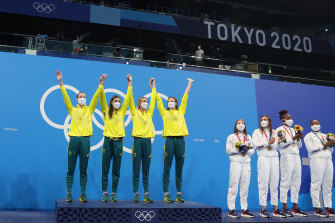 "Depth. And high standards," Cate Campbell replied when asked what the secret was to their enduring success. "We've all had to step up, year in and year out. And we come together at least once a year for a full week and we push each other and challenge each other. But we do that in a supportive way, no malice or animosity.
"That has spoken volumes. The third Olympics in a row that Australia has won this event and that really needs to be celebrated. To do that is incredible."
Cate, at 29, is the elder of the two siblings but it is Bronte, 27, who has all but made the call on her swimming career. This is almost certainly her last Games, which ends not only a decorated individual career but a family odyssey among the most storied in Australian sport.
"Rio was our first time on the podium together at the Olympics and to be able to replicate that... I don't know if anyone else has ever done that. These girls are like family but Cate is literally my family so to stand up there with my sister is pretty incredible," Bronte said.
"I really took a moment to let it all sink it because it flies by very quickly."

Bronte Campbell
"This time we really took a moment to stay in the present [at the medal ceremony], it all flies by so quickly. We just took a moment to watch the flag go up and look at the Olympic rings in the background.
"This is probably going to be my last Olympics so that is going to be the last time I see that. I really took a moment to let it all sink it because it flies by very quickly."
McKeon had already looked menacing in the 100m butterfly heats and semis but her relay split only reinforced her claims for multiple medals across team and individual events in Tokyo. She will start favourite for both freestyle sprints and for good reason.
She had to navigate a butterfly semi just before the relay but is used to such a high volume of racing and looked as fresh as ever when she burst off the blocks to torch lane four.
"It's all worked out well, coming out with these girls the adrenaline is always high. I was happy with the semi, got through to the final, so I was just excited then to get in the pool with these girls," McKeon said.
With both Campbells towards the end of their career and McKeon 27, you could be tempted to think the dynasty was coming to an end for Australia. But Harris is the face of the next generation, as is Mollie O'Callaghan, the 17-year-old who lead off in style in the heats.
A fourth gold at Paris 2024 is not only looking possible, but probable.
Never miss a medal or great sporting moment with our Olympic update emailed daily. Sign up for our Sport newsletter here.