Could Sex and the City's leaked script point to the real bigamist?
So, a Sex and the City sequel is happening.
Yes. A limited 10-episode HBO series, And Just Like That..., began filming last week in New York City. The release date is still unknown.
I couldn't help but wonder... What's left to say?
True, the show's six seasons and two movie spin-offs did address some of life's most pressing questions. (Don't dye your pubic hair Krusty the Clown red if you're going grey.) Specific details of the plot have remained largely under wraps until this week, when a photo of a leaked script page was published in Page Six.
Tell me more.
The juiciest bit is a line of dialogue from Carrie, during a scene with Miranda Hobbes, Charlotte York Goldenblatt and Stanford Blatch: "I was taping the podcast, I was washing my hair. Yes, I wasn't eating or sleeping, but at least I felt good about my marriage. Now I'm just one of the wives he was taking care of?"
You're telling me Big – once described as "a man practically woven out of red flags" – might not be The One, after all?
There are rumours that "Big has other secret wives" or Carrie and Big have divorced and are fighting over money, with Carrie joining the ranks of Big's exes, Natasha (played by actor Bridget Moynahan, who is returning) and Barbara.
Realism!
Listen, photos from the set do show Carrie, seemingly now a freelance podcaster, sporting strappy Celine heels and her trusty Fendi baguette bag. But the writers are introducing a diverse cast of new characters, including a non-binary queer comedian and a real estate broker played by Homeland star Sarita Choudhury, addressing one of the show's long-standing blind spots. In January, Sarah Jessica Parker confirmed the COVID-19 pandemic will "obviously be a part of the story line."
There's been allegations there'll be 'no sex' with the absence of Samantha Jones played by Kim Cattrall, who has been in a long-standing feud with SJP.
Pshaw, this series will have depth. "Friendships fade, and new friendships start," an HBO exec has said about why Cattrall would not be joining the reboot. "They're trying to tell an honest story about being a woman in her fifties in New York," according to HBO.
So, night sweats replacing how they'll make rent, "carb crawls" instead of downing cosmos, and dodging rats on the race to the subway?
No comment.
What else?
"Where have they fallen short as women, as friends, and how are they finding their way?" Parker said to Vanity Fair, about what the new series would ask of Carrie and her best friends. "Are they like some people who are confused, threatened, nervous?"
Some people? Name one person who's not had their arse kicked seven ways til Sunday in the last 18 months and come out feeling like a cake that's been romanced by a pit bull.
True.
Still, the possibilities make one's mind dance like dust caught in the afternoon sunlight.
Don't they? Who can forget the time Charlotte, while riding in a cab with her best girlfriends, agonised over whether she should have anal sex with a boyfriend. "What was that?" she asked, as the taxi hit a pothole. "A preview," said Miranda and Samantha, before launching into hysterics. Just imagine what they might do with COVID canoodling, Raya, and hooking up at a civil rights march.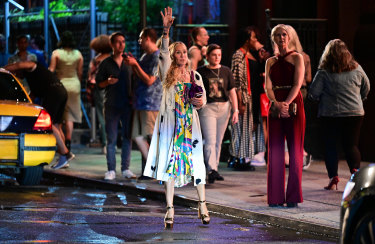 So we might be getting... woke Carrie?
It'd be a welcome improvement for a character who once questioned the existence of bisexuality, saying: "I think it's just a lay over on the way to Gaytown." And Parker did say in a recent interview that the new reboot would ask, of Carrie, "How have all of these [recent] political changes affected her work?"
Please, god, no skin-tight newspaper dresses scrawled with Black Lives Matter headlines.
And we pray.
But, really, how are they going to explain Samantha's disappearance?
Speculations abound. They include: she couldn't handle being associated with Carrie, who's been "lightly cancelled" for egregious behaviour, she "fell down a rabbit hole of right-wing YouTube videos and has been completely red-pilled", and Carrie's friend Stanford Blatch has taken her place (the leaked script showed him brunching with the girls).
But what about Aiden? John Corbett, the actor who plays him, says he's in the reboot, but HBO hasn't confirmed, and...
Get a grip. It's a TV show.
Make the most of your health, relationships, fitness and nutrition with our Live Well newsletter. Get it in your inbox every Monday.
Samantha Selinger-Morris is a lifestyle writer for the Sydney Morning Herald and The Age.