'At risk of recession': NSW lagging even before lockdown hit Sydney
Even before the hit to jobs and growth dealt by Sydney's lockdown the performance of the NSW economy was lagging most other states.
Analysis by Australia's biggest bank shows NSW was ranked fifth out of the eight state and territory economies heading into the winter shutdown.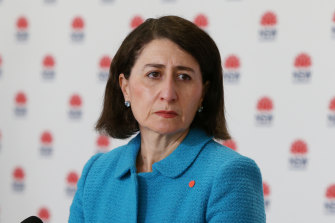 The quarterly "State of the States" report compiled by CommSec found NSW performed relatively well for housing finance and equipment investment during the three months to March 31 but lagged most other states on economic growth, spending and housing construction in that period.
The state rankings come amid warnings the lockdown threatens to push Sydney's economy back into recession.
Marcia Keegan, a regional economics expert at SGS Economics and Planning, said the city was experiencing a major economic shock due to the restrictions.
"Sydney is at risk of dropping into recession," she said.
Dr Keegan warned key city industries including accommodation and food services, arts and recreation and transport have now suffered sustained damage.
"Some industries haven't yet fully recovered from last year's downturn, especially firms dependent on international tourism," she said.
A recent report co-authored by Dr Keegan on the economic performance of Australia's cities and regions showed the economy of Greater Sydney shrank by 0.8 per cent in 2019-20.
Earlier analysis by SGS Economics and Planning found Sydney had escaped recession for almost four decades prior to the pandemic. But the city's economy now looks set to have two major contractions in a little over a year.
Weekly payrolls data published by the Bureau of Statistics last week showed a significant decline across Greater Sydney in late June-early July as tougher lockdown rules were imposed. This suggests a much weaker outlook for the city's jobs market.
Earlier this month a joint federal-state economic support package was announced to help businesses and workers in NSW during the lockdown.
But Treasurer Dominic Perrottet has warned some affected workers are "slipping through the cracks" and called on the federal government to reinstate the JobKeeper wages subsidy which offered more generous income support than the COVID-19 disaster payment.
The JobKeeper program has been credited with helping the national economy make a rapid recovery from last year's pandemic-induced recession, in part because of the way it retained links between employees and employers.
NSW Opposition Leader Chris Minns has also called for the return of JobKeeper.
On Sunday Premier Gladys Berejiklian said the state government is "having conversations with the federal government" about the economic aid on offer.
"We are going to pursue all opportunities to provide more assistance," she said.
Berejiklian said she doesn't want anyone to feel "they are being left behind or falling through the cracks" during the lockdown crisis.
"If there is more we need to do, we will," she said.
CommSec's report found Tasmania was the best performing state economy during the March quarter, followed by Victoria and ACT.
"Tasmania leads on four of the eight indicators and is second-ranked on another two," it said.
It was the sixth quarter in a row Tasmania has been in top spot.
CommSec has not ranked NSW among the top three performing state economies since early last year.
The Morning Edition newsletter is our guide to the day's most important and interesting stories, analysis and insights. Sign up here.